Stop by Fort Collins Nursery to check out our amazing selection of rock garden and alpine plants grown locally at Laporte Avenue Nursery. Rock gardens are a great way to add a rugged, natural look to your garden and landscape and usually require little to no maintenance. These plants come in many varieties, like Columbine, Penstemon, Saxifrage, and Phlox. They are well adapted to our environment and well suited for growing in rocky and low fertility soil. These exceptional plants are loved by everybody and come in all kinds of shapes and sizes. Our expert staff will help you pick out the perfect plants for your rock garden today!
Here are some lovely varieties to get you started:
Pasque Flower
Pulsatilla vulgaris 'Hybrid'
Description: Pasque flower is an early season favorite that provides rock gardens and beds with fabulous early spring color. Their cheerful flowers bloom in rich lavenders, pinks, and purples with bright yellow centers. Their fern-like foliage and fringed petals contribute to their beautiful and elegant appearance.
Height: 6 in.
Spacing: 8 in.
Water: Regular
Bloom: Spring
Zones: 4-8
Silene acaulis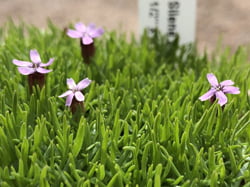 Silene acaulis
Description: Silene acaulis is an exquisite gem that should be added to every rock garden. Mats of tiny deep green needle-like leaves are smothered beneath pretty pink flowers that bloom in late spring to early summer.
Height: 1 in.
Spacing: 8 in.
Water: Moderate – Low
Bloom: Late spring to early summer
Zones: 2-9
Sugarbowl Clematis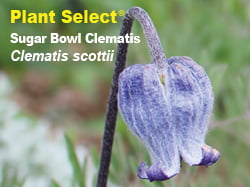 Clematis scotti
Description: Sugarbowl Clematis was a Plant Select introduction in 2013. It features non-vining upright stems, narrow blue-green foliage, and rich purple-blue turban-shaped flowers that bloom in late spring and early summer. Sugarbowl Clematis are somewhat slow to establish but long-lived once situated.
Height: 12-15 in.
Spacing: 12-18 in.
Water: Moderate – Dry
Bloom: May – June
Zones: 4-7
Draba zapateri
Draba zapateri
Description: Draba zapateri is a bun-shaped plant with tight, deep green foliage and pure white flowers that bloom in late spring. These plants need partial shade and do well on northern slopes.
Height: 2 in.
Width: 5 in.
Water: Low Water
Bloom: Mid-April to early May
Zones: 5-8
Originally Posted March 31, 2016. Updated April 4, 2019.
Originally published on April 4th, 2019. Updated on May 3rd, 2019.