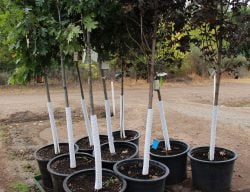 When fall comes around, many nurseries are wrapping up the season and ready to shut the doors for the winter. You can typically expect to find the same tired looking stock that has been out on the shelves all season, the leftovers of what has not sold. Not at Fort Collins Nursery! Each fall we release loads of fresh, new plants into our inventory throughout the month of September. We have freshly stocked perennials including all of your fall favorites like mums and asters plus dozens of new shrubs and trees that were grown right here at the nursery by our wonderful production team. We also receive truck-loads of great new tree stock from several of our trusted wholesalers. Our fall selection is hands down the best you'll find, and fall is a great time to plant – warm soils encourage rapid root establishment, while the coming cold weather means the plants aren't spending energy growing foliage and blooming, leaving all that energy for root growth.
Originally published on September 1, 2018.
Originally published on September 5th, 2018. Updated on August 29th, 2019.